( Reviews)
Regular price
€39.99 EUR
Sale price
€31.99 EUR
Unit price
per
Sale
Sold out
Fast Shipping

Premium Quality

Made In Europe
Worldwide Shipping

1 Pair Bought = 1 Pair Donated

Free Shipping Over €35 in Ireland
Elevate your outdoor experience with our Arctic Merino Wool Hiking Socks Bundle for women. This 4-pack, certified by OEKO-TEX® and Woolmark, offers thermal insulation, ventilation channels, and stylish colors—Light Grey/Charcoal, Blue/Pink, Black, and Navy/Blue. Perfectly sized for UK 4-7.
Sock Composition

66% Merino Wool
30% Nylon
4% Elastane (LYCRA®) - OEKO-TEX® and Woolmark Blend certified

Wash Instructions

Machine wash 30°C, using wool cycle. Use wool detergent.
Size Guide

| | | |
| --- | --- | --- |
| Sock Size | 37 - 41 | 41 - 46 |
| EUR Shoe Size | 37-41 | 41-46 |
| U.S. Sock Size | 9-11 | 10-13 |
| U.S. M Shoe Size | 4½-7½ | 8-12 |
| U.S. W Shoe Size | 5½-9½ | 10-12½ |
| U.K. M Shoe Size | 4-7 | 7,5-11,5 |
| U.K. W Shoe Size | 3,5-6,5 | 7-11 |
| JPN Shoe Size | 23-25,5 | 26-29,5 |
| CN Shoe Size | 23-25cm | 25.5-28cm |
One Bought = One Dontate

For every pair of socks we sell, we donate a pair of socks to homeless charities, nursing homes, and direct provision centres around Ireland, the UK, & Europe
Delivery Info

Shipped Worldwide from Ireland by An Post 

Next Day Delivery in Ireland - €7.99

| | | | |
| --- | --- | --- | --- |
| Region | Socks | Gift Box | Free Delivery |
| Ireland | €2.99 | €3.99 | > €30 |
| UK & NI | €2.99 | €4.99 | > €50 |
| EUR | €3.99 | €5.50 | > €100 |
| Rest Of World | €4.99 | €9.99 | > €150 |






View full details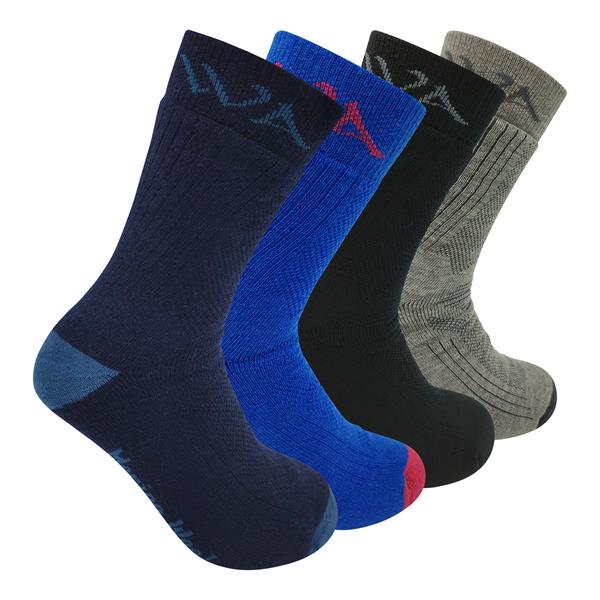 Arctic Premium Hiking Socks For Colder Climates
The Wild Atlantic Sock Collection Arctic Merino Wool Sock is made from fine Merino wool, ideal for outdoor work and adventure. The Merino wool provides natural thermal insulation, keeping your feet warm and dry in the winter and cool in the summer. This sock is thoughtfully designed with comfort and durability in mind, and is lined with Terry loops for a snug fit.

SOCK FEATURES

Extra Thick For Colder Weather: Our 'Arctic' range is developed with extra thick Merino wool and padding all-round the sock to ensure your feet are kept protected and warm while you are hiking in colder environments.
Merino Wool For Warm, Dry Feet: This multi-performance Merino wool sock is thoughtfully designed with your comfort in mind and is lined with terry loops throughout the sock for extra warmth and snug fit. These socks hold heat so your feet stay warm and comfortable. 


Padded Sole: 

The 'Arctic' hiking socks have a padded sole from heel to toe. This helps to absorb any jarring shocks you might experience while hiking on rougher terrain. The padded sole also helps to minimise chaffing.

Anti-Blister: 

These hiking socks are engineered with comfort in mind and feature a built-in Anti-Blister cushioning to prevent unwelcome painful blisters on those long hikes.

Ventilation Channels: 

The 

'Arctic' hiking socks 

have targeted ventilation channels

 are designed to allow a constant air-flow, keeping your feet cool and preventing moist and sweaty feet during an arduous hike. 



Ideal For Work & Outdoors: Our 'Arctic' sock is an ideal choice for Hiking, Walking, Trekking and any other outdoor activities all year round. The padded sole gives you extra comfort allowing you to carry on with your activities with comfort.
Perfect Elasticity: The soft top is of high thickness with great elasticity to make sure the sock holds up in shape, comfortably attached to your feet.
OEKO-TEX® Certified: This certificate is one of the world's best-known labels for textiles tested for harmful substances. It stands for customer confidence and high product safety.

Designed In Ireland: All our socks are proudly designed from our head office in Limerick Ireland.

Made In the EU: All our socks are manufactured in the European Union. Our socks our manufactured to the highest standard to ensure a quality and long lasting product. 
ONE BOUGHT = ONE DONATED: We beleive in giving back, so for every pair of socks we sell, we also donate a pair to local homeless charities.
Arctic Hiking Socks - Key Benefits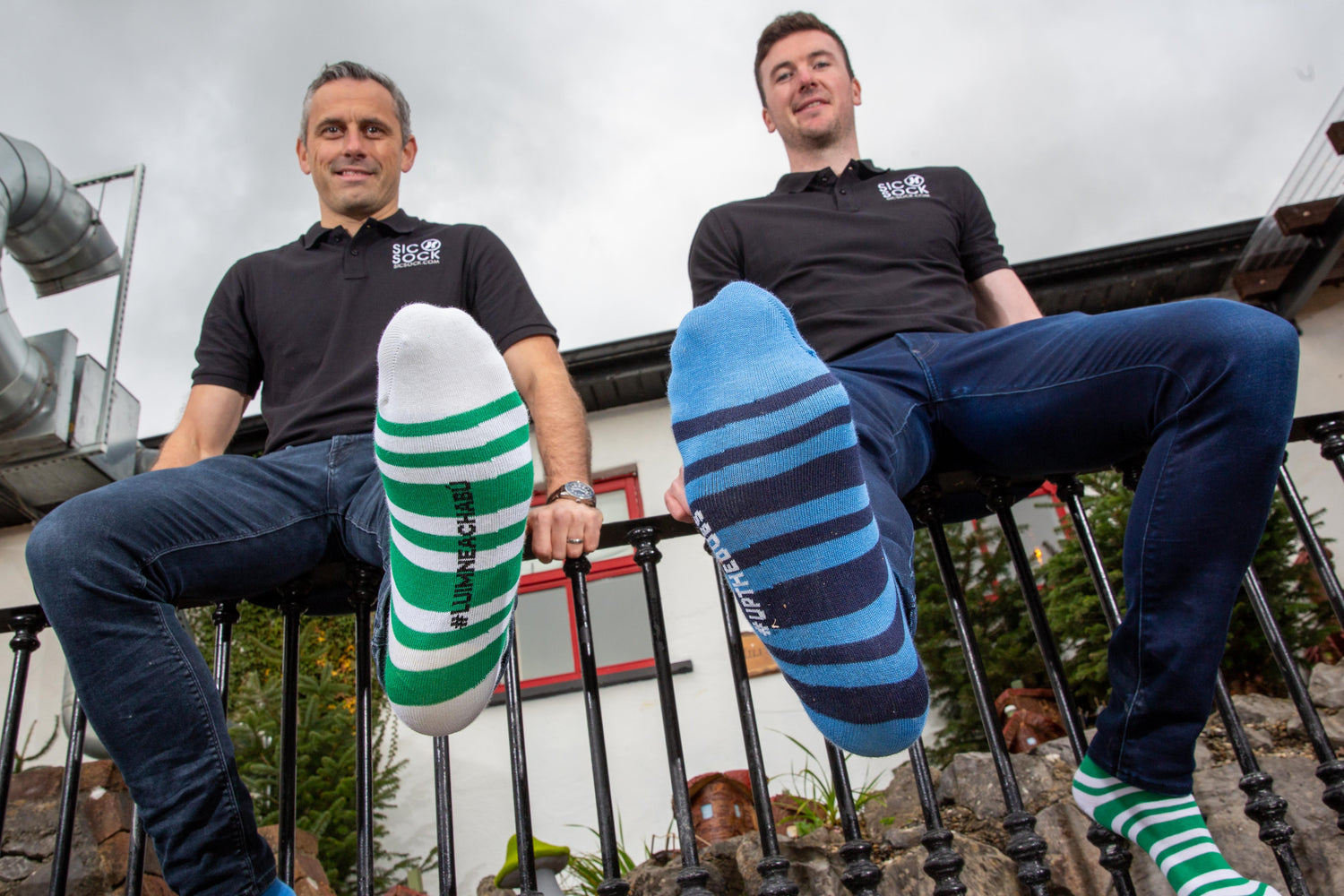 Step Up Your Sock Game with High-Quality, Ethical Footwear for Irish Trendsetters
Born in Limerick, Ireland, we blend premium quality with a passion for nostalgia. From our retro soccer shirt roots to a wide range of passions and lifestyles, we're here to help you express yourself through stylish socks. SicSock is more than just footwear; it's a statement of who you are and what you love.